Integrated experience platform
Software developers such as Salesforce, Adobe and IBM have invested in recent years to be able to offer their own integrated experience platforms. Mainly through acquisitions of existing partial solutions or one-point solutions. These software solutions help you to offer your customers a good customer journey. However, you should take the following into account:
What you need to look at is the 'central database'. Central sounds like complete and organized, but there are still some snags. Because these solutions were developed on the basis of different architecture standards and technologies, you still have to link different databases in the background. Always check how far the software developer of your choice is with this. Some developers are further along with the actual integration of all these different sharing platforms than others.
In principle, an integrated experience platform offers a complete solution to offer customers a good customer journey. It is true that you have to keep all information within the 'ecosystem' and therefore the relevant integrated solution. If you want to export this information for another tool, that becomes difficult. So if you also want to use other solutions, check whether the integrated experience platform you choose is suitable for this.
The advantage of an integrated experience platform is that they can usually be linked to other software tools from the same software developer. These links connect different parts and can thus provide information about your marketing activities. In practice, it is often the case that an integrated experience platform is a duplication or replacement for one or more existing software systems. In that sense, it can therefore lead to additional complexity.
Best-of-breed environments
The best-of-breed environment is opposed to an integrated experience platform. A combination of solutions such as a CRM system, marketing automation or customer service solution. These solutions were once developed for the specific purpose they serve. As a result, they are often better at this specialist task than an integrated experience platform.
The advantage of a best-of-breed solution is that you can add or replace parts while many of your existing software solutions remain intact. In order to offer your customers a good customer journey, it is important that you bring the customer data from these systems together in a central customer view.
A customer data platform (CDP) is the ideal solution for this. It has been specially developed to bring together information from different tools in one database. As a result, you do not have to accelerate investments in existing solutions and do not immediately invest heavily in licenses, implementation and migration, while you still give a strong impulse to loyalty and marketing activities.
Hybrid solution
A hybrid variant may also be preferable in your specific situation. Think of an environment in which you choose a module or cloud from an integrated experience platform to support your marketing activities and continue to support your sales and customer service activities with point solutions.
The right choice is different for every company. The above information is therefore to inform you about the various options. Are you looking for a good solution for your company? Please contact us. We are happy to help you make the right choice!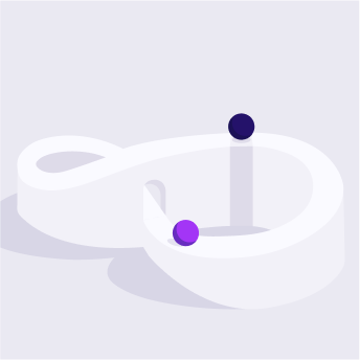 Continue Reading
A Customer Data Platform what…?!?