A Customer Data Platform what…?!?
We hear that often. That's why once in plain english. Or layman's terms. if you like. Nice and simple. What does a Customer Data Platform (CDP) mean to you. With one mouse click you have access to all your customer's information. So that you can address this customer personally. And always and everywhere with relevant information. So take into account the preferences and current situation of your customer. For example, their favorite color and model of a product. Whether the situation is that this customer is now in the web store or has just scanned the customer card on the shop floor.
Responding to the customer journey
With this information at hand and your goals in mind, you can set up and automate tasks. This allows you to respond continuously and immediately to every situation in the customer journey. Where the customer is central. We call this data-driven marketing.
Too good to be true? Yes of course. Because say for yourself who has organized all his customer data in such a way that you can use it so (pro) actively.
Or not and this is not an unachievable vision of the future. With Nominow we already solve this today for the companies that work with us. Is it rocket science? New. Is it a trick then? New. But somewhere in the middle lies the truth.
Optimal customer experience
In any case, with Nominow we ensure that it is not rocket science for you. We believe that as a professional you should be able to do your work easily, quickly and effectively. And if that means 'providing your customer with the optimal customer experience', Nominow provides you with the right tools for this. In order to provide the customer with an optimal customer experience, you most likely use various solutions and systems. Such as email marketing, webshop, CRM and perhaps also a ticket or cash register system. In all these systems, customer data is recorded and used. Ideally, you have an overview of all this customer data and can use it in combination. That way you make every contact moment relevant. The basis for an optimal customer experience.
Linking data sources
Of course it is not your daily job to find out which customer data is available. And certainly not that you have to bring all that data from different sources together yourself. Because how do you determine which data belong together? And make the right choice when there are differences? Then we have good news because Nominow solves these tasks for you. Linking with data sources, continuously retrieving customer data, checking the data, deduplicating and merging it into a central customer view. So you can check off.
Get started right away
And then. With all this up-to-date information, you naturally want to get started right away. That is also possible. The data is immediately available for use. Either to update one or more of the original data sources. Or to gain insight into the composition, vitality and current or future value of your customer base. Each individual customer is automatically provided with various characteristics. These characteristics arise from preferences that the customer has indicated himself, observed behavior or calculated on the basis of the available information.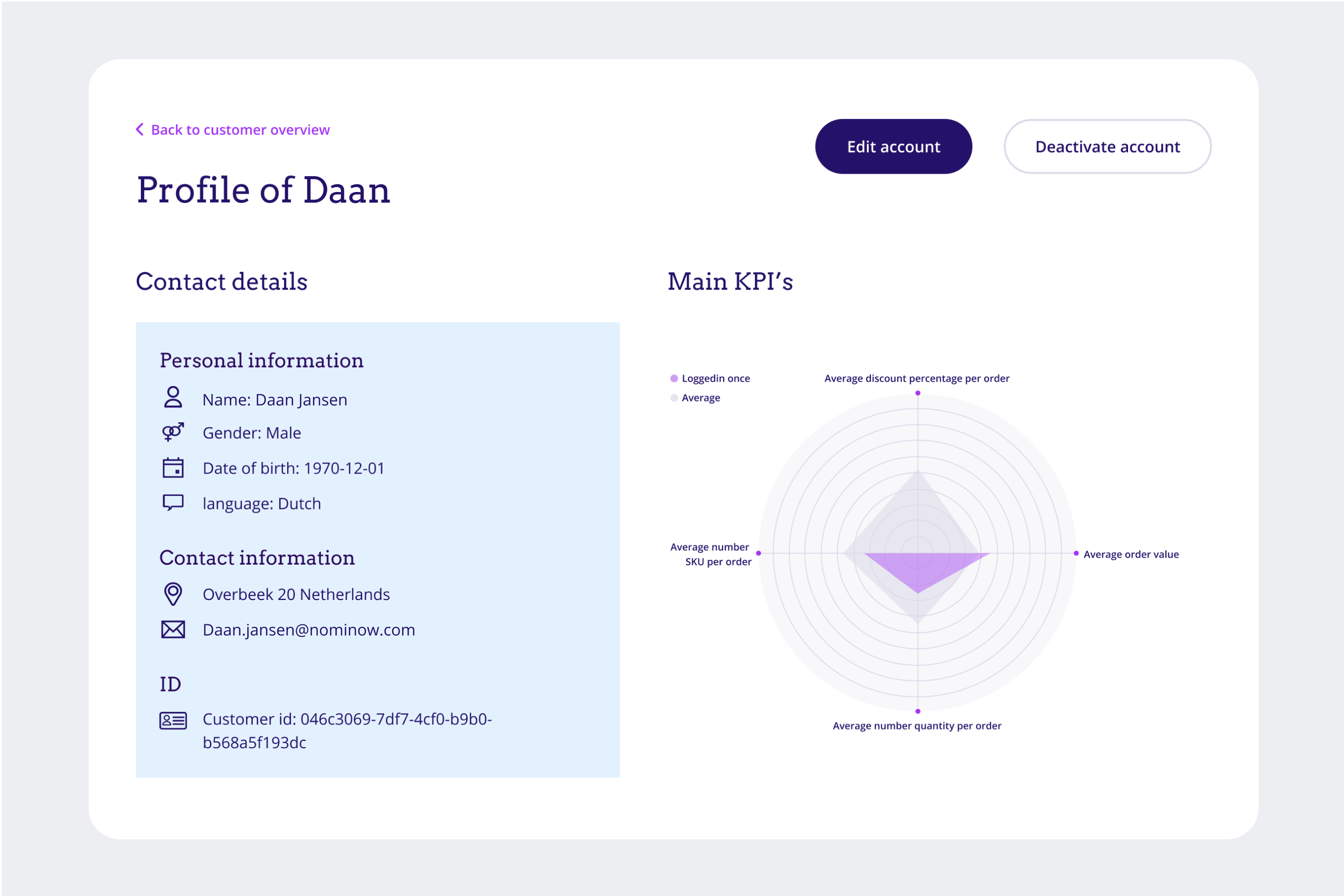 Data driven marketing
These characteristics form the basis for (micro) selections for marketing purposes, for example. They can be used individually, in combination or in combination with a smart algorithm, predictive or not, to automatically initiate an action. These automatic actions can control other systems, for example to send an e-mail in which the content is tuned one-to-one for the recipient.
Another example where data directly leads to automatic action is a historical transaction in combination with the current behavior of the customer, so that they receive a suitable offer for a repeat purchase. Moreover, the fact that this customer is sensitive to social proof is also taken into account. Nice examples of data-driven marketing in which customer data, characteristics obtained from it, combined with smart self-learning calculation rules, continuously determine the best next action. And again, Nominow ensures that this does not come across as rocket science. The simplicity in use and application of your customer data perhaps betrays the innovative strength behind Nominow.
Organize your customer data
Start organizing your customer data centrally today. Use this to get to know your customers well. Know what hits them. Arm yourself with that knowledge and then deliver the optimal customer experience. An experience they will not soon forget. And that they would like to share with others. Do you want to know more about a customer data platform (CDP)? Please contact us.
Disclaimer
In the article above we have avoided using jargon. For the sake of readability, the following terms did not survive. #customerjourney #customerexperience #customercentricity #touchpoints #datasilos #RESTapi #omnichannel #trigger #predictive #machinelearning #artiXcialintelligence #datadrivenmarketing #singlecustomerview #nextbestaction #rocketscience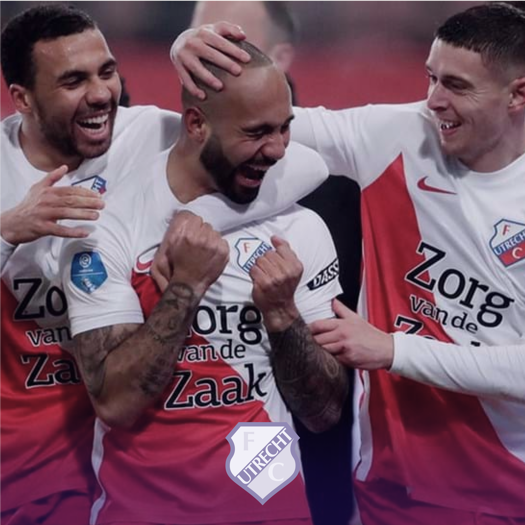 An award-winning data-driven experience for the FC Utrecht fan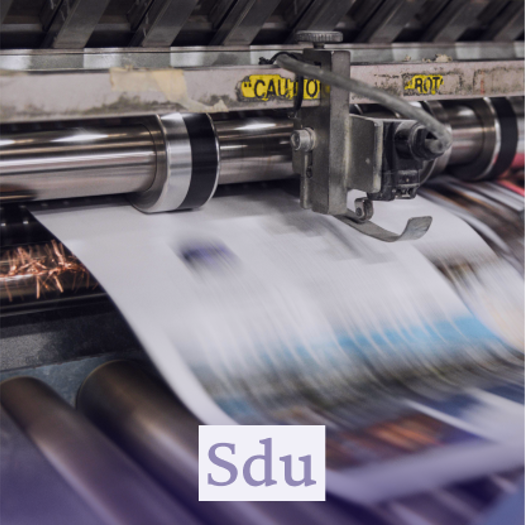 A 360 customer view for a publisher and course provider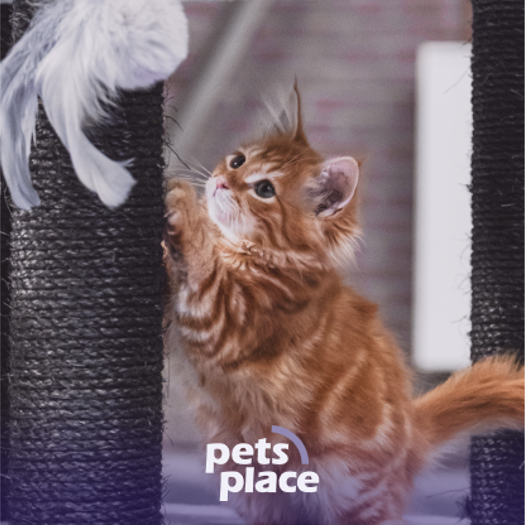 A 360 degree customer view of owner and pet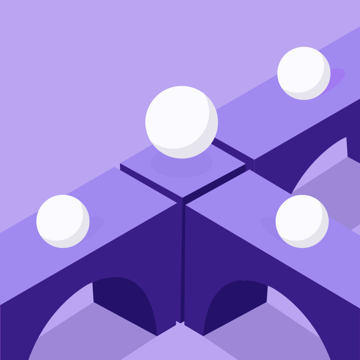 Continue Reading
Get more out of your marketing stack with a Customer Data Platform (CDP)