How do you give customers the feeling that everything revolves around him or her? That your products and services fit seamlessly with their personal profile, are offered at the right time and at the best price? Then you work with a Customer Data Platform (CDP), the ultimate marketing technology that turns a one-time buyer into a repeat customer. Convince yourself with the main benefits of the Nominow Customer Data Platform.
Every company faces the challenge of getting customer data in order. After all, doing business is becoming increasingly customised: turnover and continuity are only guaranteed if you know as much as possible about the customer's behaviour, interests and expectations. With a Customer Data Platform (CDP) you permanently have a 360º profile with which you can immediately carry out a marketing campaign - at the right time and via the channels that exactly suit the individual customer.
New marketing opportunities by linking customer data
A CDP links customer data from different channels into one profile. Sometimes only a few data sources are needed to build a good foundation. But the more available off- and online resources, the more valuable the profile. For example, Nominow works for Tommy Hilfiger Europe with information from no fewer than twenty data systems, resulting in an average of 50% more spending with every purchase.
The more contact moments there are with customers, the more necessary the deployment of a Customer Data Platform. From brick shops to webshops, from social media to e-mailings, order management systems, mobile apps or customer support tools: all data about the customer and his or her purchase journey provides rich, valuable insights.
The challenge is to properly organize and process this data in a CDP only then will the insights ensure continuous improvement of your strategy.
Within the Nominow Customer Data Platform, your data is continuously deduplicated, cleaned and enriched. This leads to an up-to-date, accurate customer view and forms the basis for transaction- and service-oriented communication with the individual customer. Because marketing and technology go hand in hand, you are able to create accurate customer profiles based on reliable customer data surprisingly quickly.
360º customer profiles
With the 360º profiles in a Customer Data Platform, marketers develop actions based on past transactions as well as current behavior. This inspires suitable offers, with greater chances of a repeat purchase and of an optimal brand experience for the customer. If the information from a Customer Data Platform is used properly, customers will no longer see advertisements for products that they have already purchased. That alone helps to strengthen their brand preference.
AVG compliant
Another advantage of using a Customer Data Platform is that it also helps you manage customer data securely. Since the GDPR legislation introduced in May 2018, privacy protection has been a top priority. Because Nominow has a powerful data cleaning engine, it is possible to link, deduplicate and check the data of one person. This leads to a customer profile in which all permissions regarding the tracking and application of user data are centrally recorded - it therefore helps you comply with all rights that the customer has under the GDPR rules.
Customer data can be used company-wide - also by service bots
The data-driven approach of a Customer Data Platform can be used for multiple departments within a company. No serious company can do without the wide availability of customer profiles for different professional disciplines.
In fact, no other system than a CDP is better able to 'democratize' linked data files. Just as easily as a marketing department handles a Customer Data Platform, the customer profiles are available for sales, IT or customer support employees, for example.
The data is easy to filter and segment and can be divided into blocks that exactly match the role of employees and their departments. It is even possible to predict future customer behavior.
Service bots - the new key players in the fast-growing conversational technology - also like to be fed complete customer profiles from the Nominow Customer Data Platform. This gives the bots a central memory that serves customers quickly and efficiently, using their own profile data.
Certainty about reliable data during the customer journey
Although the customer is now at the helm with an arsenal of channels and screens, the need for a personal experience remains. With the deployment of a Customer Data Platform you are able to guide the customer impeccably. From the first impulse to the transaction: you know exactly how to improve the individual customer journey.
With a CDP you can also be sure of the reliability of the customer profiles: it is always 'first party data' that you have at your disposal. With that you have the best source of truth in your hands.
Higher retention and customer lifetime value
What could be better than rewarding repeat customers for their loyalty to your business? With a Nominow Customer Data Platform, you have unique and advanced features to support savings or loyalty programs. Getting to know your customers better, discovering their personal interests and motivations and analyzing their behavior always leads to higher retention and customer lifetime value. Your customers may even become the best ambassadors for your brand, because you can give them the full attention they deserve from the CDP.
The link within your existing data infrastructure
You don't have to replace anything for the deployment of a Nominow Customer Data Platform in your organization: it is an affordable addition to the existing infrastructure and data sources. In close collaboration with your own specialists, it is analyzed which data is needed to arrive at a central customer profile, and you will be ready for your first campaign within a few weeks.
Want to know more about Nominow? Click on the banner below to download the product sheet. Or click here to make an appointment for a consultation.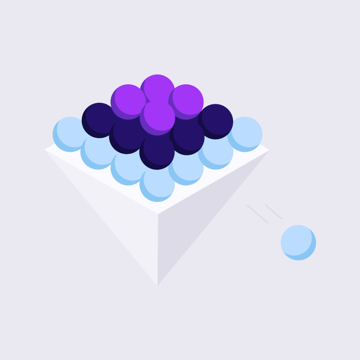 Continue Reading
A 360 degree customer view? These are the challenges and solutions