Customers have increasingly higher expectations due to the best practices in the market. In order to attract and retain the attention of customers, most organizations therefore pay a lot of attention to the customer-friendly design of websites, apps and customer contact centers. Yet a lot still goes wrong in customer contact, because many organizations have customer systems that work excellently in one specific area. However, there is often a lack of a central customer view.
Many marketing departments dream of a more data-driven customer approach, where they use all information from different touchpoints and channels for a personal approach to the customer. Only 20% of organizations succeed in this, because the pursuit of higher maturity is delayed by all kinds of bottlenecks. Some of this is technical. In this blog we list the most important obstacles and how you can achieve a central customer view.
Main obstacles
According to research by Squadra, a consultancy specializing in digital transformation and master data management, customer data is part of the business strategy for 60% of companies. For 96%, high-quality customer data is seen as very important for business operations. How is it possible that so few companies succeed in this?
The same survey asked about the main obstacles that stand in the way of an ideal situation around customer data. The respondents cited unclear ownership and a complex IT landscape with insufficient integration as the two main reasons.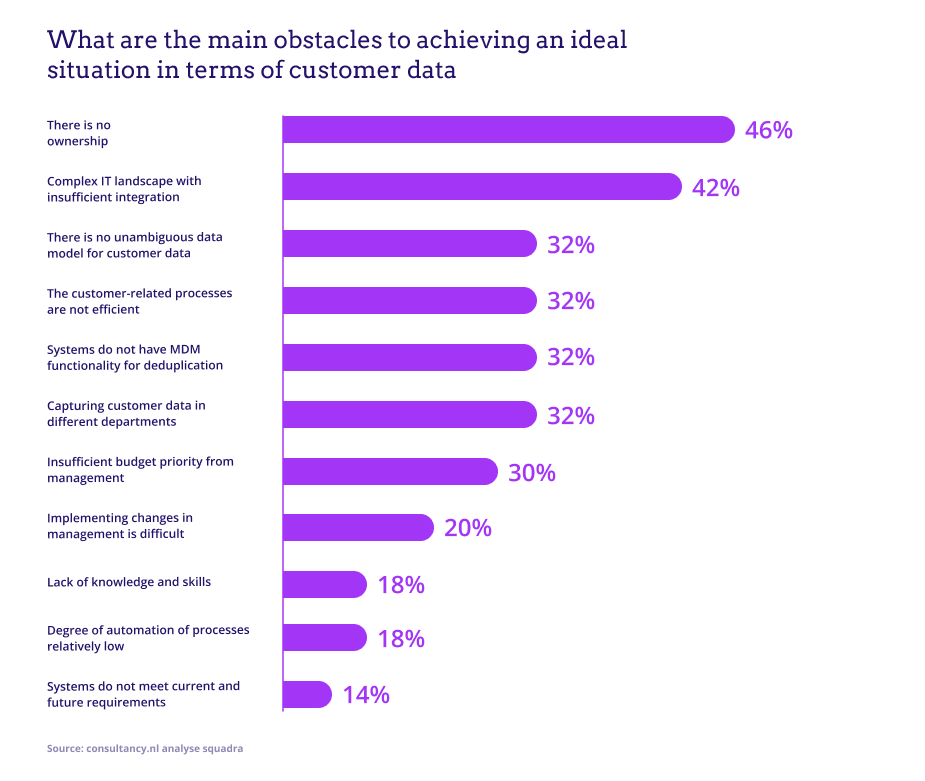 The consequences of unclear ownership of customer data
Product data is usually stored in centrally managed and integrated systems. Customer data, on the other hand, is often spread across multiple departments, processes and systems. That's because the origin has several sources, such as:
contact in the shop;
telephone customer service; 
a purchase in the web store;
action on the website,
or by purchasing business units
The use of the data is also for different purposes - sales, marketing, customer service - and each department therefore sets up its own system and methodology. Customer data is therefore everywhere and there is rarely one owner who is responsible for all customer data.
The result is a fragmented view of the customer, duplication of data and lack of possibilities to manage processes between systems. All this can lead to ineffective marketing campaigns and even irritation among customers.
In our blog 'Who is responsible for customer data? Marketing or IT?' we will take a closer look at the ownership of customer data and how you can arrange this properly.
The consequences of insufficient integration in the IT landscape
When different departments work with different systems and databases, this has a number of consequences for the IT department:
more management when IT is responsible for maintenance and adjustments
security and compliance difficult to guarantee due to dissemination
It is hard work for IT to maintain all systems in this way and to guarantee the quality of the data. Adjusting a field in a source file or importing a field into a process has to be done in several places. Not very efficient. Moreover, there is a good chance that the marketing department itself will start looking for solutions outside of IT, because it all takes too long and they want to continue. This entails additional security risks. Usually, these solutions are stand-alone applications that are not integrated into the IT infrastructure and therefore fall outside the scope of security. Plus, customer data is spread across multiple silos, increasing the chance of duplicate and incorrect data.
It would already make a big difference to IT if one central customer base feeds the various applications. In this way, maintenance and adjustments require considerably less work and safety can be better guaranteed.
A central customer base with a Customer Data Platform (CDP)
Such a solution is available with a Customer Data Platform (CDP), a combination between master data management for the customer domain and CRM. Such a CDP offers more options than a traditional Marketing Data Warehouse. It not only stores the standard name and address customer data, but also processes all relevant customer information in real time and immediately converts it into actionable and targeted information. So also buying behaviour, preferences and more. This allows marketers to easily segment customers and link them directly to marketing automation systems.
The Nominow CDP is such a Customer Data Platform. This operational system combs through various source files, deduplicates data, cleans it up, validates and provides input to the required systems from one central database. For IT there is only one source file to maintain. This is easy to integrate through standardized links within the existing IT infrastructure. That makes security easier. In addition, the Nominow Customer Data Platform is GDPR compliant.
The Nominow CDP works with a standardized data model. Of course you can always expand this model to your own liking. Adding a field in the Customer Data Platform or in a process only needs to be done in one place. That saves a lot of work for IT. Moreover, everyone within the organization has the same, up-to-date and verified customer view: sales, marketing, customer service. That gives a good image to the customer.
Do you want to know more about the possibilities of the Nominow CDP, read our free white paper From fragmented data to a 360-degree customer view.Want to see how the Customer Data Platform works? Please contact us for a demo.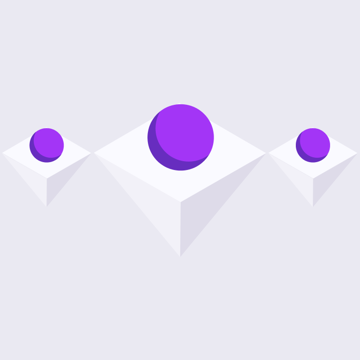 Continue Reading
The main benefits of a Customer Data Platform (CDP)