Customer contact is increasingly taking place digitally. Especially in the current time when we increasingly order safely from home to avoid crowds. That is not to say that customer contact cannot be personal at the same time. In fact, that goes very well together, precisely because of all the customer data we have today. Customers also greatly appreciate a personal approach, perhaps precisely because there is less face-to-face contact. By combining all data from different channels and contact moments, you can offer customers increasingly better products and information that are relevant to them.
Despite all these ambitions to grow with such a data-driven approach, many companies struggle how to handle customer data.
Research from Squadra shows that the main obstacle is that it is not clear internally who owns it: IT or marketing. Followed by the second (technical) obstacle: how do you ensure that you integrate customer data into your current IT landscape?
These two obstacles limit companies from growing towards a data-driven customer approach. However, both obstacles can be easily overcome. How? We tell you that in this blog. We start with the first obstacle: ownership.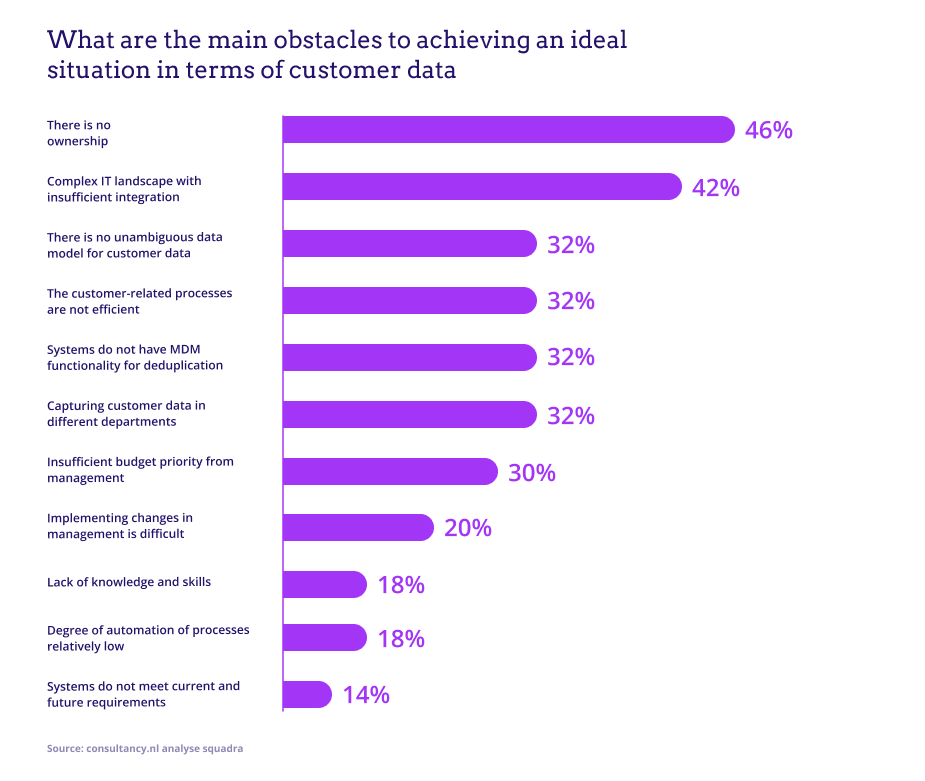 Breaking deadlock due to lack of ownership
In practice we see that the marketing department feels responsible the quality of customer data.
Without knowledge of technology and the necessary security, they store these in different systems and databases, which are often not synchronized with each other or connected to the most important business applications. As a result, 80% of companies do not have a central customer view. Towards the customer, this can lead to ineffective marketing campaigns and even irritation if customer data is not correct.
For the IT department, all these data silos mean extra management work and security risks. In order to limit these as much as possible, in practice they often close the possibilities for users to add more data or systems.
This creates a deadlock in many organizations: the marketing department feels paralyzed because they can't do what they want and IT can't keep up. However, you cannot afford this impasse as an organisation, because you are missing out on opportunities. Organizations that do have their customer data in order will overtake you in no time. They run off with the customers who respond to the personal offers they receive from them: your competitor.
Clear agreements
It can also be different. Although there is no 'one size fits all' model for customer data ownership, the marketing department and IT can make clear agreements. In short, this means that marketing provides input and lets you know what they want with the data, where it comes from and what the process looks like. And that IT is responsible for the quality and availability of the data. They must take care of the (secured) infrastructure, new technologies and management.
Both parties benefit from these agreements:
The Marketing Department will have a say and can therefore adapt business processes and data more flexibly. As a result, the data becomes more valuable to them: the quality is better, it is unambiguous throughout the company and can be used according to the wishes of the marketing department.
The IT department gets a grip on the data. This allows them to manage more efficiently, reduce capacity and comply with GDPR and other security regulations. And also very important of course: it results in a satisfied customer.
If both parties record agreements in this way, the quality of the customer data will increase. And thus the organization's right to exist.
How do you handle this?
This all sounds quite logical and nice and simple, but how do you go about doing this?
Everything starts with the realization of one central customer profile so that everyone works with the same customer data. A Customer Data Platform (CDP) helps to achieve this. With a Customer Data Platform you have access to all relevant information from your customers on one platform. In addition, a Customer Data Platform is easy to integrate into your existing IT landscape, overcoming the second obstacle.
In a Customer Data Platform, a cleansing engine links, deduplicates and validates the customer data from different data sources. This leads to an up-to-date 360-degree customer profile in one place. Nominow is such a Customer Data Platform that combs through different systems and provides input to the necessary systems.
The marketing department and IT jointly determine what is stored in the Customer Data Platform. This does not only concern name and address details, but also information such as purchasing behaviour, interests and communication preferences. In short: everything a marketer needs to create customer segments and approach customers personally.
A Customer Data Platform makes it easier for IT to manage the data and make it securely available. The platform then powers all marketing, sales and customer support systems. By centrally storing all customer information, you can easily tailor marketing promotions to individual buyers or customer segments.
Joint project
It is important that the set-up and implementation of a CDP is not just an IT party, but that employees are involved at the earliest possible stage in the design and functioning of a CDP. In this way they gain insight into how a customer image is built up in the system and IT learns what is important for marketing. That leads to mutual understanding. Ideas may arise during the implementation that can be implemented immediately.
The Nominow CDP works with a standardized data model. Extensions to this are always possible. When new situations arise in the customer process or when the marketing department has new wishes, IT can respond quickly. This prevents employees from looking for alternative solutions.
Integrating a Customer Data Platform into your IT landscape
You can easily integrate a Nominow CDP into your existing IT architecture. Replacement of systems or adaptation of the architecture is not necessary. You can link the platform to existing systems using APIs (or FTP). Both internal and client facing systems.
The integration with Nominow will be operational within a few weeks. This allows the marketing department to get started quickly and you will be fully GDPR-proof within 2 to 3 months. The data is stored in the Netherlands. That means: no complicated matters with guaranteeing an appropriate level of protection in other countries. In addition, Nominow is ISO certified.
The fact that you work with a Dutch party also makes it easy to contact. If you have a question or a problem, you can do so in your own language.
Convenience for IT
With a central Customer Data Platform it is clear which department is responsible for what. The marketing department provides input for the processes, origin and desired customer data. IT ensures availability and quality. With a CDP, they can efficiently and securely manage one central customer profile.
This way you arrive at a good division of roles. After all, you work for the same customer.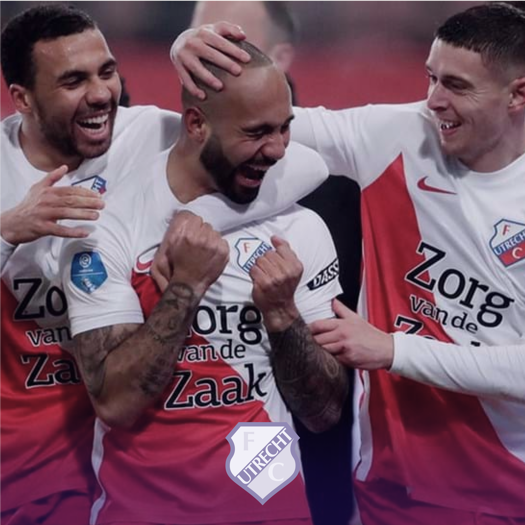 An award-winning data-driven experience for the FC Utrecht fan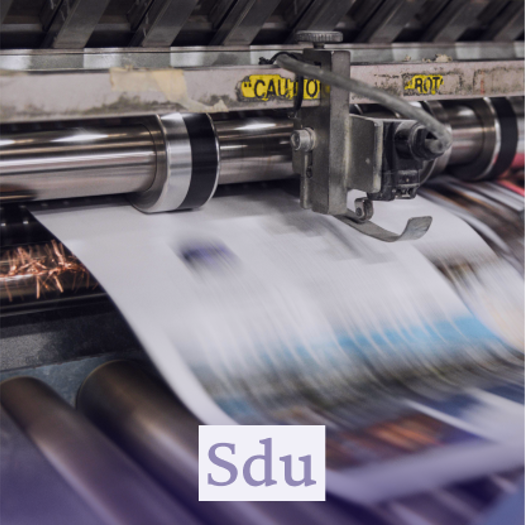 A 360 customer view for a publisher and course provider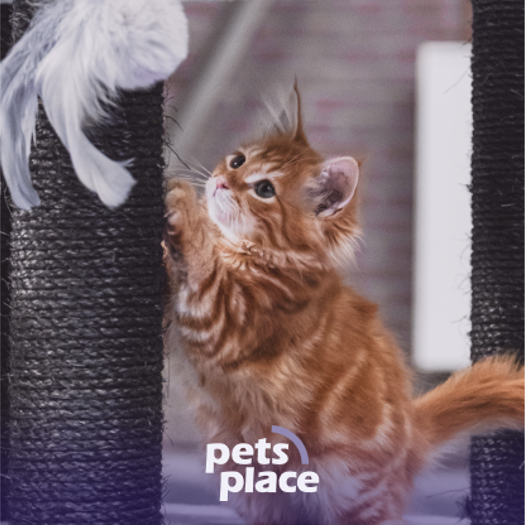 A 360 degree customer view of owner and pet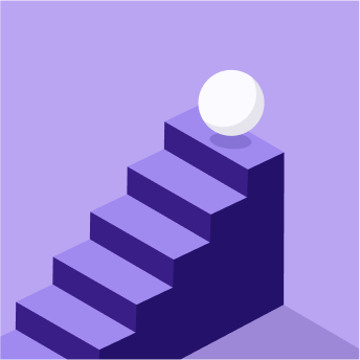 Continue Reading
Put the digital transformation in 6th gear with a Customer Data Platform